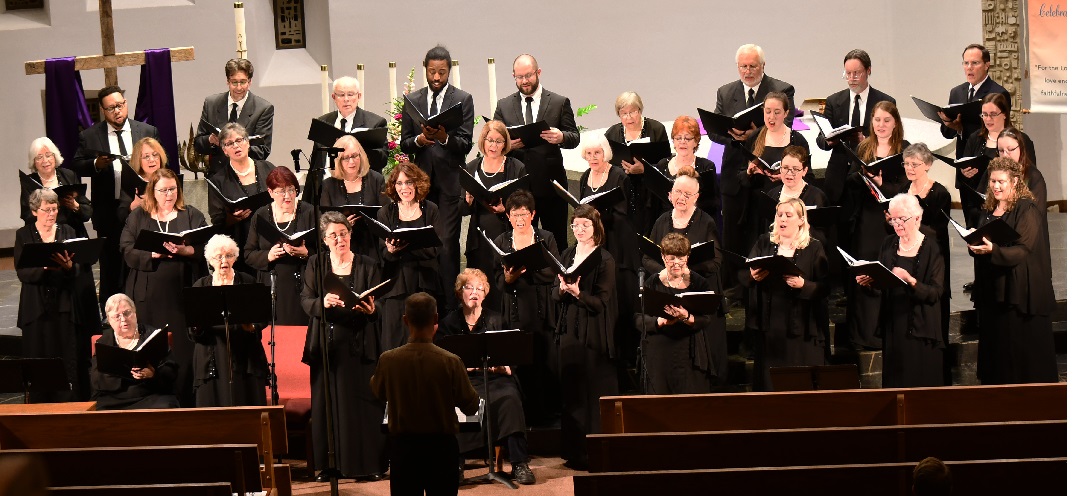 PARK RIDGE, IL, April 26, 2019 – Question: What do Dolly Parton, Aretha Franklin, Ella Fitzgerald, Carole King, Judy Garland and Dionne Warwick all have in common — besides being women of song and each a recipient of multiple Recording Academy Grammy Awards, as well as immortalized with a brass star ("recording" category) embedded in the Hollywood Walk of Fame?
Answer:  They each wrote and/or recorded a signature song(s)  that will be showcased at Northwest Choral Society's("NWCS") final concert of the 2018-19 season on Saturday, June 1 at 7:30 p.m. at Our Lady of the Brook Parish in Northbrook.
Entitled Cherish the Ladies: America's Great Women of Song, the concert program includes these arrangements, along with songs by nine additional great American ladies of popular music – singers and songwriters from the early days of jazz to contemporary folk, country and pop.  A complimentary discussion of the concert music will be hosted by NWCS Artistic Director Kevin Kelly at 7:00 p.m. prior to the concert.
The fifteen featured women singers and singer-songwriters have been nominated for a total of 229 Grammy Awards and have received a total of 76 "Grammys" in recognition of achievements in the music industry during their careers. 
Ella Jane Fitzgerald (April 25, 1917 – June 15, 1996), sometimes referred to as the "First Lady of Song" or "Queen of Jazz," was the most popular female jazz singer in the United States for more than half a century. She was noted for her purity of tone, impeccable diction, phrasing, intonation, and a "horn-like" improvisational ability, particularly in her scat singing.  In her lifetime, she won 13 Grammy Awards and sold over 40 million albums.  To honor Ms. Fitzgerald, NWCS will sing "Summertime," which she recorded with Louis ("Satchmo") Armstrong, and "Mack the Knife," for which she received the Best Female Vocal Performance Grammy.
Judy Garland (June 10, 1922 – June 22, 1969) is often best remembered for her portrayal of Dorothy Gale in The Wizard of Oz (1939).  Respected for her versatility, she received a juvenile Academy Award, a Golden Globe Award, and a Special Tony Award.  Ms. Garland was the first woman to win the Grammy Award for Album of the Year for her live recording Judy at Carnegie Hall (1961).  She was posthumously awarded a Grammy Lifetime Achievement Award.  NWCS will sing her signature song "Over the Rainbow," for which she received the Academy Award for Best Original Song, and "Get Happy," from her last MGM film Summer Stock (1950).
Dolly Rebecca Parton (born January 19, 1946) is one of the most-honored female country performers of all time.  She has composed over 3,000 songs and reportedly sold 100 million records around the world.  She has 41 career top-10 country albums, a record for any artist, and 110 career charted singles over the past 40 years. She has garnered nine Grammy Awards (47 Grammy nominations), two Academy Award nominations, and is one of only seven female artists to win the Country Music Association's Entertainer of the Year Award.  In 2005, Ms. Parton was honored with the National Medal of Arts at the Kennedy Center for the Performing Arts.  "Light of a Clear Blue Morning," a song written and recorded by Ms. Parton that reflects the pain from her break with longtime musical and business partner Porter Wagoner (whose band she left in 1974), will be performed by NWCS.
Aretha Louise Franklin (March 25, 1942 – August 16, 2018) was an American singer, songwriter, pianist and civil rights activist, and became known as "The Queen of Soul."  She was awarded the National Medal of Arts, and the Presidential Medal of Freedom. In 1987, she became the first female performer to be inducted into the Rock and Roll Hall of Fame, and in 2012 she entered the Gospel Music Hall of Fame. In 2010, Rolling Stone magazine ranked her number one on their list of the "100 Greatest Singers of All Time" and number nine on their list of "100 Greatest Artists of All Time."   The Pulitzer Prize jury in 2019 awarded Ms. Franklin a posthumous Special Citation "for her indelible contribution to American music and culture for more than five decades."  NWCS's salute to Aretha Franklin will be the medley "Queen of Soul," which includes "Respect," "(You Make Me Feel Like) A Natural Woman" and "Think" (the latter which she wrote).
Other songs on the concert program include "Come Rain or Come Shine" recorded by Sarah Vaughan; "Precious Lord, Take My Hand," Martin Luther King Jr.'s favorite song which he invited gospel singer Mahalia Jackson to sing at civil rights rallies; "Ain't No Mountain High Enough" recorded by former Supremes frontwoman Diana Ross as her first solo number-one hit, and it was nominated for a Grammy Award; "I Wanna Dance with Somebody," from Whitney Houston's second album; and "Let the River Run," with music and lyrics by Carly Simon, and it is the first of only two songs to have won all three major awards (Oscar, Golden Globe, Grammy) while being composed and written, as well as performed, entirely by a single artist.
Tickets for the Cherish the Ladies: America's Great Women of Song concert are $20 for adults and $16 for students and seniors if purchased online at www.nwchoralsociety.org or by calling 224 / 585-9127 prior to the June 1 concert.  Tickets purchased starting an hour prior to the concert at Our Lady of the Brook Parish, 3700 Dundee Road in Northbrook are $25 for adults and $20 for students and seniors. 
Rehearsals for the NWCS's 2019-20 season will begin on September 3, with the new session's first concert to be scheduled for early December.  Details of the 2019-20 season programs and venues will be released as soon as possible this summer.
Lipke-Kentex-Hesse / Dionne Supply of Chicago is providing much appreciated sponsorship financial support for the Northwest Choral Society's 2018-19 concert season.
Founded in 1965, the Northwest Choral Society is a non-profit organization that promotes and encourages the appreciation, understanding and performance of a wide variety of outstanding choral literature.  Its adult membership resides in the greater Chicago area.
The Northwest Choral Society invites experienced singers to audition to join the organization.  Basses, tenors, altos and sopranos with previous choral experience and at least 17 years of age can obtain additional information about the Northwest Choral Society at www.nwchoralsociety.org.