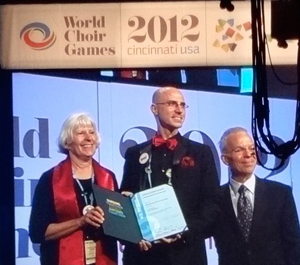 NORTHWEST CHORAL SOCIETY ENJOYED PARTICIPATION IN THE 7th 'WORLD CHOIR GAMES' IN CINCINNATI
PARK RIDGE, IL, July 23, 2012 – Twenty-seven members of the Northwest Choral Society ("NWCS") traveled to Cincinnati, Ohio July 10 to 14 to participate in the 7th Biannual "World Choir Games" – the Olympics of choral music. "We had a terrific performance at the World Choir Games," said NWCS Artistic Director Alan Wellman. "They sang beautifully, with nuance and elegance. The clinicians were impressed and provided useful evaluation. I could not be more proud of the music we made."
The World Choir Games are the largest international choral competition in the world held every two years. Approximately 15,000 participants in 360 choirs from 48 countries participated in Cincinnati for the two week choral festival. This includes approximately 80 regional choirs, representing 22 of the U.S. states. NWCS was one of three participating from Illinois. Previous games have been in Austria, China, Germany and South Korea, and the 2014 Games are scheduled for Riga, Latvia.
Although the 7th World Choir Games provided for international competition in 23 musical categories, ranging from children's choirs to show choirs and jazz to barbershop, the NWCS performed for a non-competitive evaluation and coaching. The group performed three pieces for a panel of international experts, who offered coaching suggestions at the conclusion. Their adjudicators included choir directors from Indonesia and Sweden, and a music professor from Gustus Adolphus College in Minnesota.
During a separate session, Ronald Smart, retired principal of the Conservatorium of Music in Sydney, Australia rehearsed one of the NWCS's pieces in order to provide new artistic ideas.
"Vocal music instills in us not only a love of music, but also a passion for life itself. This was a wonderful opportunity for us to perform on a world stage", said NWCS member David Hitch of Des Plaines.
The Umoja Men's Chorus, a group of 16 inmates from the Warren Correctional Institution in Lebanon, OH, competed from behind the prison's barbed-wire fences for a panel of adjudicators that traveled to Lebanon to hear them perform a day before the official opening of the 2012 World Choir Games.
"The theme of the Games was, 'Singing together brings nations together.' We certainly saw that happen in Cincinnati," said NWCS President Penny Perles of Mr. Prospect.
Founded in 1965, the Northwest Choral Society is a non-profit organization that promotes and encourages the appreciation, understanding and performance of a wide variety of outstanding choral literature. Its adult membership resides in the greater Chicago area.
The Northwest Choral Society performs concerts in suburban venues in December, March and June. It invites experienced singers to audition to join the organization. Basses, tenors, altos and sopranos with previous choral experience and 17 years of age can obtain additional information about the Northwest Choral Society at www.nwchoralsociety.org.